Brian has been working hard on the barn and he's made some amazing progress. We were able to acquire some affordable seconds of cedar tongue and groove and Brian has lined all the walls and ceilings with this wonderful wood.
I've been working to get the farm ready for spring by building a simple green house for starts. I built this small 10' by 10' green house out of scrap wood and a double layer of scrap 6 mil green house plastic. This green house design is so simple and very affordable and it can be made any length from as small as 10 feet to 100. When I put my next one up in the spring, I'll be posting a step by step instruction of how to build a similar structure.
All the tables in the greenhouse are made from scrap wood from pallets and construction sites. I'll be building some more tables over the next couple weeks and I'll post a step by step instruction of how to make a sturdy work space out of pallets and scrap wood. With a keen eye, pallets and scrap plywood can easily be found for free and many store fronts, construction sites and neighbors would gladly have you take them away. You can also make fences, sheds, and other useful structures with these sturdy gifts.
If you had any doubt of the power of compost, check out the before and after of this compost pile (and the Sweet Kellie standing by). This compost pile is only few months old and the process is even faster in the spring, summer and fall...go compost!!
Before:
After:
Lastly, here are a few things that are growing on the farm at the moment:
some kale and prize choy that survived the winter: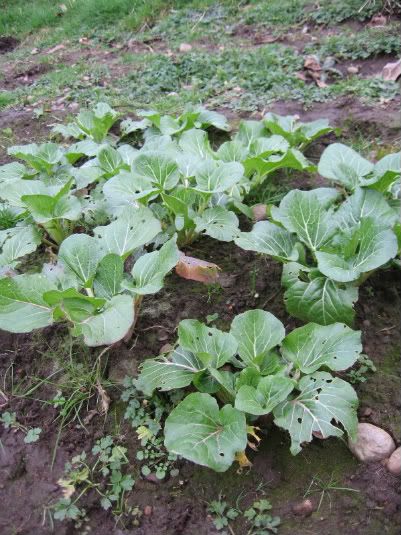 Here's one of the varieties of Garlic we seeded last fall
The fruit trees are all budding!
Thanks for checking in!
Peace,
Hillary