Hello Folks,
Since this is the quiet season for a farmer, I finally have some time to post some of our favorite pictures from 2010. We had too many photos to share here but please enjoy this small selection:
This was one of our first trays of seedlings, Early March 2010, broccoli:
5am sunrise at the farm. Spring time saw many early days for this farmer: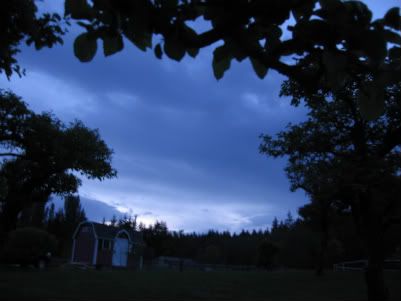 Spring time 2010 in our hoophouse, lot's of seedlings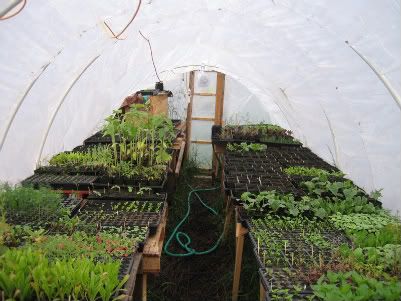 This year we decided to lease some additional land. We call our original location "Heritage" and this new plot "Nettles". Here it is in May before we tilled.
Garlic Scapes and a wee bit of basil, Early July 2010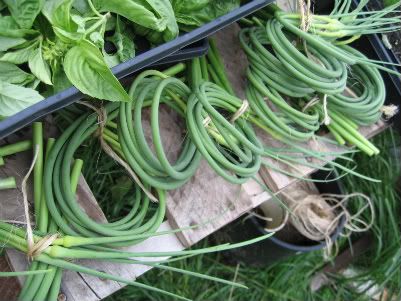 A few members of work trade crew, from left to right, Jessica, Natasha, and Daniel. Natasha, an artist and good worker, contributed about a month to the farm in June and July. Jessica, originally from Minnesota, stayed for about 3 weeks and filled all of us with a positive attitude and a strong back to go with it (did I mention she is also probably one of the most well read people I've ever met, well, she is). Daniel, a Georgia boy, will be returning with his girlfriend for another season of farm work. This year year, Daniel will be my assistant manager of the farm.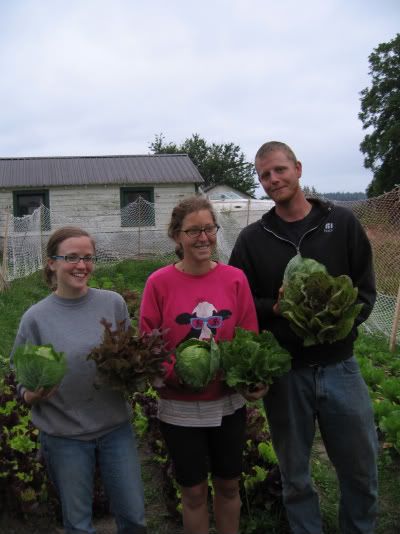 Breezy, another member of our work trade Crew. Breezy worked with us for nearly the entire growing season and we owe her quite a bit for her tireless efforts on the farm. Here she is with some freshly harvest garlic.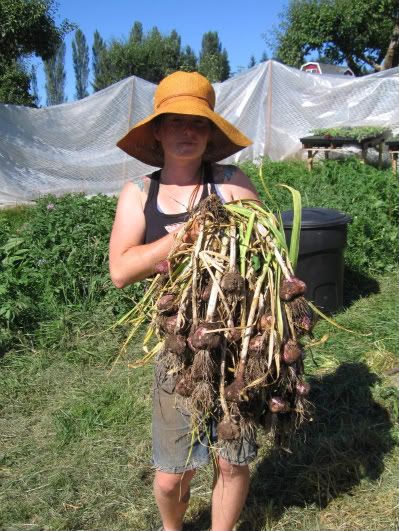 Our first CSA boxes of the season, early July. In case you've forgotten, here's evidence that June 2010 was the coldest on record. Almost everything in the box should have been harvested a month prior, however due to the cold temps, rain and lack of sunshine, it was not ready for harvest until July. Likewise, all those July type vegetables were a month behind too. No squash, tomatoes, or cucumbers yet! Even flower bouquets were very challenging at this point.
Our main growing plot over at the "Nettles" location. I think this was the end of July.
A happy farmer and her harvest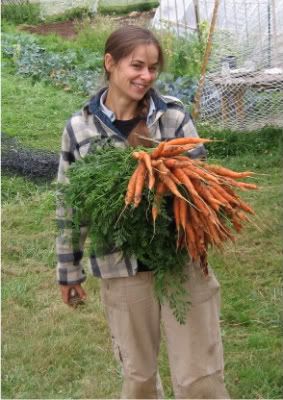 Some baby squash with their blossoms, destined for Brix 25 restaurant, August 2010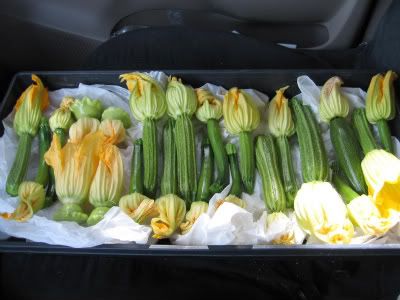 "Nettles" Farm location in late August 2010
"Nettles" Farm location in late August 2010
"Nettles" Farm location in late August 2010
Tomatoes at harvest time, early September 2010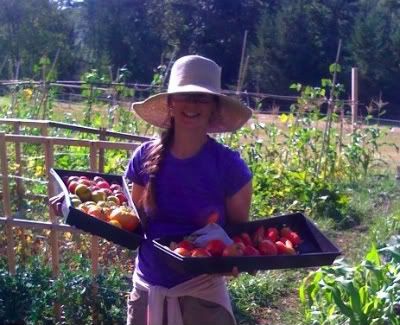 Packing CSA Boxes in September 2010, photo courtesy of Josh Sitter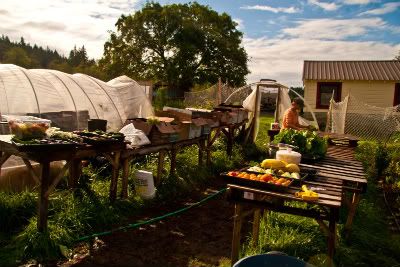 A view from the perennial garden at the "Nettles" farm location, Mid September 2010. On the left you'll see feverfew (white blossoms) which is great for migraines, and a floral variety of sage (purple). There is also some evening primrose peeking (yellow flowers). Evening primrose is good for treating whooping cough. Photo courtesy of Josh Sitter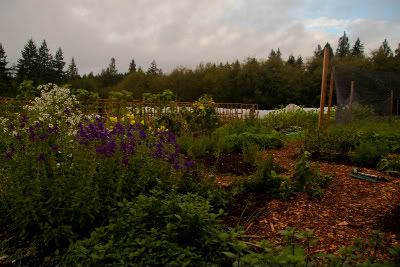 "Heritage" Farm location, Mid September 2010, photo courtesy of Josh Sitter
POTE farm, photo courtesy of Josh Sitter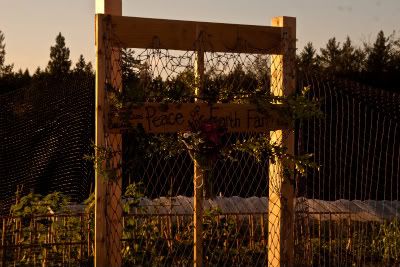 This year we were fortunate enough to be honored with a "Dinner in the Field" from a local restaurant, Brix 25 in Gig Harbor. The owners Thad and Katie, have been buying fresh tomatoes, greens, potatoes and other tasty morsels from us since 2009. This year, they pulled of one of the most memorable evenings of my life by hosting a gourmet 5 course meal on the farm. The meal consisted of local ingredients including fresh produce from our own farm. About 30 guests attended and it was a delicious success.
Brian and I were able to give a quick farm tour before the "Dinner in the Field"
Josh was one of our most memorable work traders. He stayed with us only a few weeks but made quite an impression on us. Josh, a photo journalist by trade, is currently writing two travel guides, one on hitch hiking and one on WWOOF-ing (That's "World Wide Opportunities on Organic Farms"). We wish him the best of luck as he hitch hikes down to South America and back over the next couple years! PS- he's also a fantastic chef.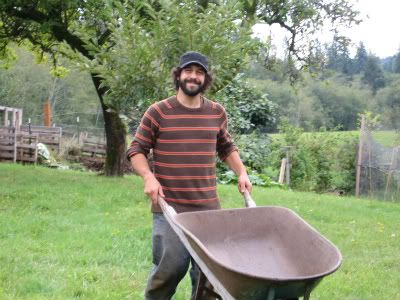 Carmit and her Son Christopher work traded with us at the end of the season. They helped put our farm to sleep and get it ready for a long winter. They are currently "WWoofing" together in Pennsylvania.
This year we opened a small weekly farm stand in Rosedale. It was never a big money generator, nor was it really supposed to be. It was simply our attempt to let let the locals know we existed and that they should start to see more of our produce in the community. We met some wonderful people, including my favorite customer, Roxi, who bought some of our giant zucchini squash for her special Zucchini bread. This is the Farm stand in Mid September 2010
Inside the tomato hoop house Late September 2010, photo courtesy of Josh Sitter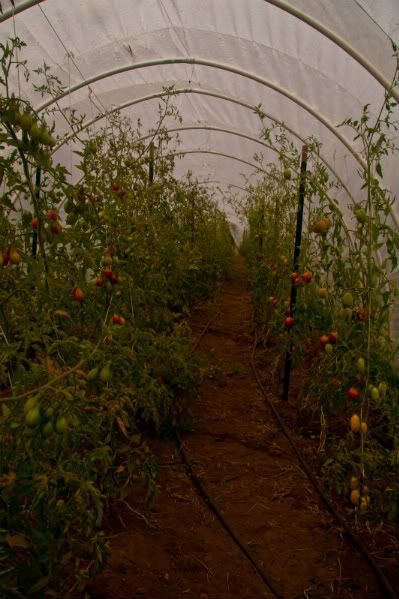 Ending on a sunny note....
This photo courtesy of Josh Sitter, September 2010